Array ( [seconds] => 19 [minutes] => 34 [hours] => 7 [mday] => 9 [wday] => 6 [mon] => 12 [year] => 2023 [yday] => 342 [weekday] => Saturday [month] => December [0] => 1702107259 )
30 of junio of 2022
1st Semester commercial events
ASEFAPI Technical Congress
ASEFAPI is the Spanish Association of Manufacturers of Paints and Printing Inks, an association that helps companies to grow and keep up to date.
The ASEFAPI Technical Congress is the meeting point for the paint and printing ink sector. It took place in Valladolid, on the 19th and 20th of May.
Colep Packaging Team was there and took this great opportunity to meet its customers again and had a great time of networking.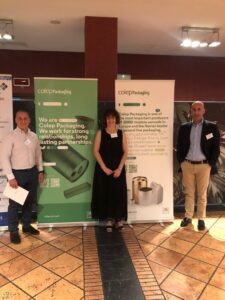 Paris Packaging Week – 29/30 of June
After two years of interruption, due to the Covid-19 pandemic, Colep Packaging team was once again present at Paris Packaging Week, a fair that is organized at Paris Expo Porte de Versailles.
The 29th and 30th of June were days of intense work, marked by several meetings done with customers and moments of networking, thus providing the possibility to share our packaging solutions.
Colep Packaging was present with a stand, through which it was possible to communicate the company's new image and an important message with a special focus on sustainability, a topic that was widely asked by our customers, in particular.
All the commercial Team as well as some Executive members were present at the Fair.